At Legacy fitness Products, we are proud to work alongside some of our industries leading manufacturers in the design, engineering and supporting of quality fitness equipment. Sadly, at some point in the life of your equipment, repair may be required, and as your regional point of contact we are perfectly positioned to fulfill this need. Lead by our In-House Service Coordinator, our service technicians will assure we exceed your expectations in the performance of your repair. Furthermore, as recommended by our manufacturers, Legacy Fitness Products also provides assistance in the reduction or elimination of emergency repair through the provision of preventative maintenance services.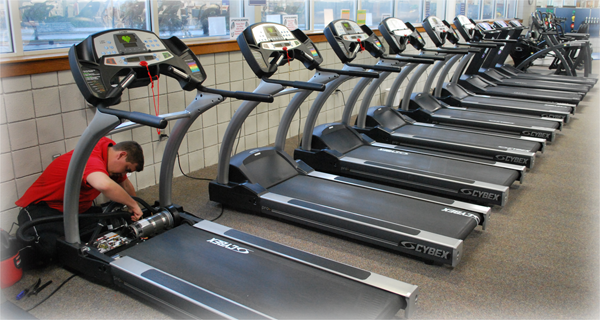 We are the one point of contact for all of the support you will ever need. Legacy Fitness Products is at your service.
Service Request
To submit a request for maintenance or service support please feel free to use this quick link to complete a 
service request form
.
John Griffin
"As an exercise science educator for over three decades, if there is something that I value highly it is the ability to be truly client-centered. It is an attribute that I stress with my undergraduates but, as a consumer, I value this in the other professionals in our fitness industry. I have known Vael for over 10 years and have turned to him many times for his advice, his knowledge, and his honesty. Often knowing there was not a sale, Vael would continue to work with me in good faith and good will. He knows his products, stands behind them but more than anything, he takes the time to understand your needs."
---
Warren Watson
"I have done business with Vael Lindsey for over 20 years. He has never failed to deliver on anything we have agreed upon. That is a rare commodity. You're in good hands when you are dealing with Vael and his business."
---
Ian Bates
We are up and running and the ARC Trainer and the Functional Trainer have been a huge success. Many thanks for your advice and recommendations with regards to establishing the direction for the club to take.
Ian Bates Director – University Club of Toronto
---
Patty Winer
"We are very proud of our new LEED Gold Certified corporate office. We are equally proud of the job done and our relationship with Legacy Fitness Products."

---
Paul Paradiso
Legacy Fitness Products' understanding of our needs allowed for an unprecidented level of comfort in the completion of our new Athletic Complex. An A+ from conception to completion."
---
Peter Byers
"Old school customer service with a genuine commitment to and interest in my business. It was a pleasure working with Legacy Fitness Products."

---
Sue Pridham
"I have worked with Vael Lindsey over the past ten years. Vael is an expert in his field. He is professional, customer focused and knowledgeable. His fitness equipment recommendations, computerized floor plans and after sales support were most appreciated by our clients and facility design teams."
---
Paul de Swart
"I am extremely impressed with the service and advice provided by Vael Lindsey and Legacy Fitness. When it came time look for new acquisitions for our corporate fitness centre, I realized that there are many potential suppliers, however, few offered the quality and personalized service of Legacy. What made Legacy Fitness standout from other suppliers was attention to detail, professional assessment of our needs, and making recommendations based on years of experience. Not only did Legacy provide great product, but the advice and service exceeded my expectations. I am happy to add that our members continue to express their delight with the new Cybex equipment, and it continues to serve us problem free."
---